Accommodation


Enjoy double rooms, hand crafted, with a breathtaking view of the ocean. A common living room with wood stove allows you to relax and share experiences with others. A library is available to enrich your knowledge of the area. We have accommodations for up to twelve people. In exceptional cases we can accommodate groups even larger. The surrounding forest and seashore offer endless hours of pleasurable adventures on your own. Kayaks are provided for local exploration.

Boat Charters in Gwaii Haanas on Haida Gwaii/Queen Charlotte Islands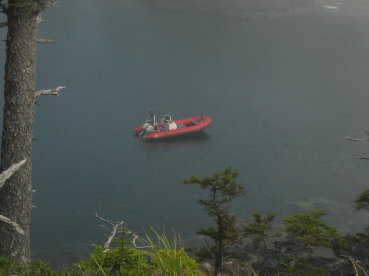 Allow yourself to be guided through ancient Haida village sites, to bird colonies, into protected tidal meadows and to exposed west coast beaches. Boat charters will get you there and are operated in a powered zodiac hurricane H590 for full or half day service. We also offer a drop-off and pick-up where you are brought to a location of your choice and with the new boat transportation to/from Rose Harbour as part of full day tour.
The ancient Haida village site of Ninstints holds an impressive stand of totem poles. This world heritage site is located on Sgaan Gwaii, twelve kilometers west of Rose Harbour. We offer historical tours for a maximum of eight people at a time. You are guided through the village site and allowed to linger and absorb the power of this First Nations culture.
As this is a wilderness area there are no trails in Gwaii Haanas. With our years of experience, we offer guided day hikes onto mountain tops, into alpine meadows, to inland lakes and into the ancient forest throughout Gwaii Haanas on Haida Gwaii/Queen Charlotte Islands.
Our guest house backs onto old growth timber. Within 100 meters you will step into the mystery of the ancient rain forest blanketed in a thick carpet of moss and discover remnants of Haida past.
Gwaii Haanas is a bird watchers' paradise. Without leaving Rose Harbour, you can watch a myriad of wild life such as Eagles, Ravens, Herons, Harlequins, Scoters, Mergansers, Buffleheads, Kingfishers and many other sea and land birds. In the surrounding area there are colonies of tufted puffins and burrowing birds such as Auklets and Murrelets just to mention a few. Rufus Humming birds and Red Hooded Sapsuckers are a frequent sight in our back yards. On the rare occasion, Sandhill Cranes and Peregrine Falcons can be observed.
Tour the remains of the Rose Harbour whaling station, which operated from 1911 to 1942. Receive an understanding of whaling station history from historical documentation including photographs, books, articles and records. Learn how a variety of whales including Blue, Right, Sperm, Humpback, Fin and many others were processed into oil and other products.

Our meals are made of the freshest ingredients grown in our organic gardens, caught from the sea, and accompanied by fresh baking. Each meal is a tantalizing taste treat and a memorable part of your adventure. Depending on the weather, we will present you with our gourmet cuisine either inside or outside where you can watch the sunset whilst you eat.

Our kitchen also caters to the independent traveller. Dinners are available by reservation. We stand by on VHF channel 6, our vessel name is "Oldsquaw," or you are welcome to come ashore and inquire.
For those who seek peace and quiet, or simply want to get away for a while, alone or as a group, we are offering the place to retreat to in the off season in Gwaii Haanas on Haida Gwaii/Queen Charlotte Islands.

Our intimate packaged tours hold a potpourri of experiences for a maximum of eight participants. Our itinerary includes daily outings. You will spend time with sealions, totem poles, bird colonies, in tidal estuaries and exploring the richly diverse intertidal areas. One day is spent walking the forest with its Haida past or, depending on group consensus, a more strenuous day hike. There's always time to relax and just be, allowing nature to work its magic.
The typical full day outing with the boat: leave Rose Harbour in the morning with a packaged lunch, proceed to a sealion rookery on the west coast before going to shore at the Haida village site of Ninstints. We spend part of the day viewing the totem poles, walking over the island to a habitation cave, having a visit with the Haida Watchmen and eating lunch before we depart. We then pass a sea bird colony observing their dynamics with all their intricacies and interactions, to another group of islets that was also a Haida habitation site. Our last stop is a beautiful sand beach looking out onto the open pacific ocean, then back home to a lovingly prepared dinner and a hot shower.
We have experience working with all types of photographers and film makers. Whether your medium is still life, film, or under water, we will cater to each individual desire, bringing you into secluded wild settings in Gwaii Haanas on Haida Gwaii/Queen Charlotte Islands.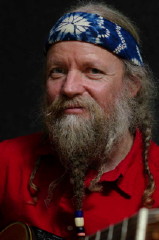 Götz Hanisch, owner and operator of Rose Harbour Guest House, is your full time licensed guide. Born in Northern Germany, he immigrated to Canada in 1981 and has resided in Rose Harbour since 1983. Götz is an accomplished builder and gardener but, better yet, a talented musician and composer. He plays a variety of instruments piano, violin, banjo, mandolin, and recorder. Guitar is his passion. His first CD, under his second name Tassilo, called: Evocations from the wilderness, was published in November 2001. His second CD entitled: Touching the place of wonder, was published in 2005. For more information and samples click here.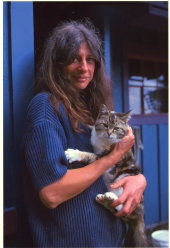 Susan Cohen is your chef and assistant guide. She has lived in Rose Harbour since 1983 with her two sons, who also act as guides in the park. Her first love is gardening and turning her fresh vegetables into gourmet creations. Food preparation is her art form. Rumors have it "...best food in the Pacific Northwest." She also enjoys playing Celtic music on her soprano recorder.

We welcome all musicians and love a good jam!